Mama is being discharged today though on trial basis to see how she would cope without the sodium chloride drip. She is currently still bed ridden but since there is no radiotherapy treatment over the weekend, Abah thought it would be nice if she spend some time at home with the family.
Abah also paid up for the hospital bed till Monday, just in case she needs to be re-admitted again during the weekend.
Yeay.. Mama's coming home!
Cheerio…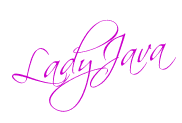 First Commenter Gets Linky Love
Thank you for commenting. LJ Loves Ya.
***
Gagay