I didn't visit mama today as my mother was too tired to go and I didn't want to leave her home alone. However, Azwaj told me that mama is getting much better. After a second round of radiotherapy, she is now able to lift her right hand (she wasn't able before). She can even talk much clearer and managed to eat much more porridge than yesterday.
Yes.. thing are looking up for Mama!
Cheerio…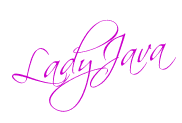 First Commenter Gets Linky Love
Thank you for commenting. LJ Loves Ya.
***
Monica